Bespoke Steel Structures
For projects that require expertise and knowledge we deliver bespoke extensions and structural steel, always with an emphasis on appearing architecturally pleasing. We're not limited to size of project but we generally work within a range of between 25 to 250 tonnes of installed steel. We take high standards very seriously and meet strict project deadlines. We have a can-do attitude and dedicate ourselves to solutions for your satisfaction.
Types of work undertaken
Surveys • planning • drawing & design • project management • manufacture • fabrication • installation • bespoke steel structures.
We have been the preferred partner in a number of major projects, including a sports hall for St Marks Girls School in Hounslow, the construction of a steel frame to house a magnificent swimming pool in Newbury, a marina in Hampshire and a large recording studio with a helipad in Reditch, to name a few.
To complement the structure, our architectural and structural divisions work closely together to provide a seamless transition between trades. Being able to cover these extra considerations as one supplier can save considerable time and cost, with the advantage of being managed centrally by us, so each stage in construction is progressed without delays.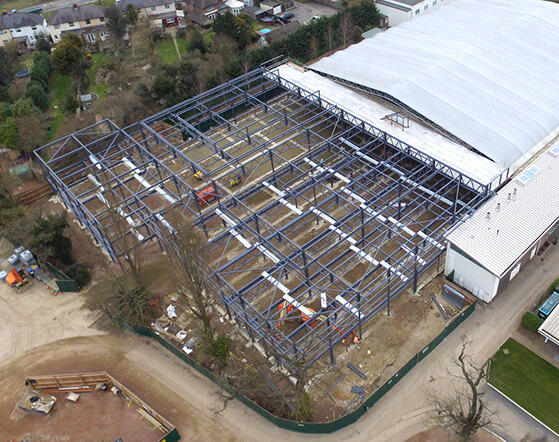 "They are very easy to deal with and quick to turn most items around if needed in a short space of time. Variations were keenly priced."
"Priced for us at tender and remained competitive during construction.
Easy to deal with commercially and good installation teams who got over problems with very little fuss."
"We would recommend Alpine to other contractors and clients – A great company with good customer focus to deliver the right product."
"We use Alpine because of their bespoke service and ability to help architects design work.
We like them because they are honest and let us know what they can and can't achieve"
"Through different routes I have used Alpine on several different projects, they are a go to company that hasn't let me down yet. They are large enough to handle the different types of work that I have offered them but handled them with a personal touch so you feel looked after. I will continue to send enquires their way and look forward to working with them again in the future."
"It's worth noting that AlpineGroup stood out, on what was a very tricky project, and approached everything with a very positive attitude. The team that worked on our project were extremely professional throughout, and assured that the clients expectations were met and often exceeded. The quality of work was second to none and I would have no hesitation to work with them on our upcoming projects."
"In a world of ever increasing demands on project timelines and pushing the boundaries with technical projects, Alpine have the ability to bring something different to the table.
I also like the fact they are a family owned and run business meaning that they care about what you are asking them to do."
"I enjoy working with people who understand the demands of construction and the pressures the main contractor works under."