Feature Staircases and Balustrades
Our beautifully designed staircases and balustrades are considered signature pieces for interior design. We work closely with architects and interior designers to ensure stairs, railings and balustrades effortlessly exemplify the high quality and flair their projects depend upon.
The Architectural division has a dedicated team of craftsmen and designers who work together to deliver exceptional creations. We embrace the latest technology but it is our team's vast knowledge of the metal work industry that makes our railings, staircases and balustrades so appealing to our customers. We often incorporate these architectural designs into larger projects.
We are familiar working with a wide range of materials including mild steel, stainless steel, corten, glass, timber and brass. We are well known for our spiral and helical staircases which can transform a property's style and space.
Types of work undertaken
Staircases including spiral and helical • railings • balustrades • verandas • metal decking • special commissions.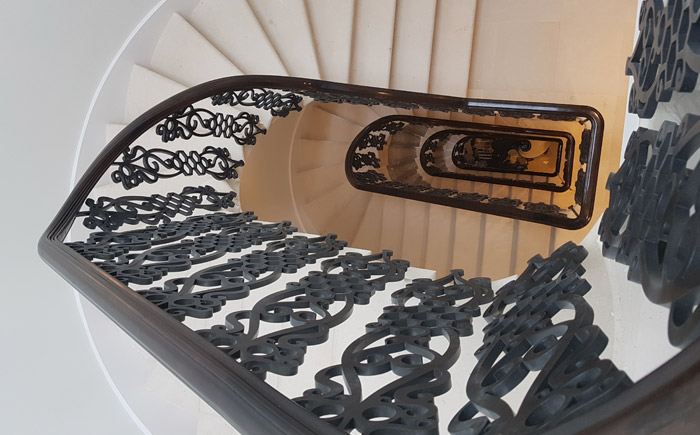 "They are very easy to deal with and quick to turn most items around if needed in a short space of time. Variations were keenly priced."
"Priced for us at tender and remained competitive during construction.
Easy to deal with commercially and good installation teams who got over problems with very little fuss."
"We would recommend Alpine to other contractors and clients – A great company with good customer focus to deliver the right product."
"We use Alpine because of their bespoke service and ability to help architects design work.
We like them because they are honest and let us know what they can and can't achieve"
"Through different routes I have used Alpine on several different projects, they are a go to company that hasn't let me down yet. They are large enough to handle the different types of work that I have offered them but handled them with a personal touch so you feel looked after. I will continue to send enquires their way and look forward to working with them again in the future."
"It's worth noting that AlpineGroup stood out, on what was a very tricky project, and approached everything with a very positive attitude. The team that worked on our project were extremely professional throughout, and assured that the clients expectations were met and often exceeded. The quality of work was second to none and I would have no hesitation to work with them on our upcoming projects."
"In a world of ever increasing demands on project timelines and pushing the boundaries with technical projects, Alpine have the ability to bring something different to the table.
I also like the fact they are a family owned and run business meaning that they care about what you are asking them to do."
"I enjoy working with people who understand the demands of construction and the pressures the main contractor works under."