The Processes for Creating a Stunning Staircase
If you are planning a building project that includes staircases, engaging with The Alpine Group early means you'll reap the benefits of our expertise. Here we share some of the processes involved in creating that stunning staircase, so you'll know what to expect.
Firstly, solid preparation is important. Best practice dictates having sufficient time to contemplate the project and explore ideas. If we are there from the very start, we can advise on the special considerations you need in construction to make sure the staircase has the right foundations, floor slab edges, and the structure is strong enough to support the stairs. We can make sure all those technical requirements are sorted.
What we offer is invaluable expertise, bringing our experience to the table. Early involvement brings with it huge advantages such as proven designs. We can share proven connection details that we know work and we can tell you at which point the staircase needs to be installed so that connections will be invisible.
Design and sign off
Making a sketch become a reality means knowing the legal standards for staircase designs. Sometimes the materials need to be changed to meet British standards and building control. There are also stringent load requirements. We'll need to source the materials and to be sure the client is happy, we can provide samples.
When we have designed the staircase with engineering and legal requirements met, only then can we price it. We can be tied into a 'design-only' PCSA (Pre Construction Service Agreement) so there is a clear path with a workable design, all within managed cost expectations, and with this, we'll be aligned with the procurement strategy of the main contract. We make sure designs work, can be built and will be legally compliant.
Material processing stage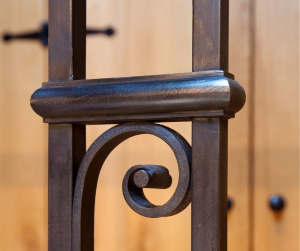 Most of our projects are bespoke, so we need to order materials and book special commissions such as drilling, milling, rolling, laser cutting and special finishes when we have the sign-off. After the drawings are given the green light, there will follow around three weeks of specialist procurement and for processing materials, so all the materials are ready and prepared to go into the assembly line. Depending on the size and complexity of the staircase, once the materials are in the workshop this can take anywhere between one and ten weeks' worth of bespoke manufacturing and fabrication. A key advantage we have is our broad knowledge of all kinds of specialisms in staircase creation.
When you see any of the staircases in our gallery section, you see the beautiful objects, but what you don't see is the incredible hard work behind the scenes.
Manufacturing process
When it's time to manufacture the staircase, one of the key considerations is in production planning. To meet timelines and efficiencies we'll need to allocate time for the project with engineers and make sure the build flows without gaps in productivity or availability. We use specialist assembly teams to pull all the parts together into the finished structure. At The Alpine Group, we have our own workshop and a unique team of seasoned talents for the creation and assembly, including our own forge and fabrication specialists.
Finishes and installation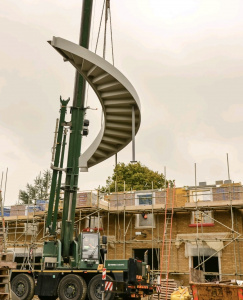 Finishes can involve anything from primer to PVD and lead times for some of these may be extensive and require good forward planning.
The installation alone also requires significant pre-planning and the organising of a great many processes. We need to allocate the correct people, with certifications checked, and we need to create method statements and conduct risk assessments. Due to the size and weight of the staircases, we need to transport and assemble them in situ with great care. On the day of the installation, close collaboration with other site trades will be required and specialist moving and lifting equipment will need to be hired.
When you see any of the staircases in our gallery section, you see the beautiful objects, but what you don't see is the incredible hard work behind the scenes. They require a huge amount of specialist knowledge, planning, manpower and collaboration and Alpine are always there to work through to the project's satisfying end.
If you are starting a building project with stairs in it, be sure to contact us first, so we can give you the expertise you'll need to take steps in the right direction.